All about Aluminum. Aluminum is an extensively used metal in our present world. Envision a world devoid of aluminum. It would be a world without silver paints, explosives, glass, ceramics, cans, foils, LED lights, frying skillets, automobiles, airplanes, CPU's, outboard motors, lawnmowers, escalators, conveyor belts, streetlamps, typewriters, and some dental equipment. All these gizmos and gadgets have a part made of aluminum, as aluminum cast parts or in other designs and shapes.
First step in the aluminum casting process is the presence of an inventive object which a mold is designed after. The mold could be manufactured out of sand, wax, plaster, or another type of metal. There are variations within these different styles. For instance, sand might be dry sand cores or green sand molds. Die cast molds possibly can be water cooled or not. Oil is coated on these molds before anything else. Next step is the melting of the metal. The molten metal is then placed into the mold and permitted to harden inside. As it solidifies, it forms the design of the mold, imitating every miniscule detail. The part is then taken out of the mold. For aluminum part castings, the procedure is repeated on and on numerous times, in the mass production of aluminum parts. These parts are then used for putting together machinery or casings of equipment, or they happen to be a part of the little details of some ordinary gadget that we used to having.
The casting procedure is also utilized in applications other than industry. For instance, Sculptors in art make use of aluminum casting process. In fact, one well known statue that is made of aluminum casting is the statue of Eros in Piccadilly of London, the U.K. which used the lost wax method.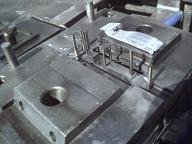 If you are looking for information about Die Casting Tooling and Molds, look at this website. Die Casting Blog gives information on how to get a Aluminum Die Castings and Zinc Die Castings. If you are looking for Die Casting Part Prices look at this website.
Cast Parts Company Die Casting Company
6918 Beck Avenue
North Hollywood, CA. 91605
818-982-9386 Phone
Sales@Cast-Parts.com.