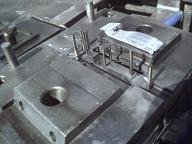 Die Casting Molds Diecasting Tooling
Die Casting Molds Tooling


Cast Parts Company
6918 Beck Avenue
North Hollywood, CA. 91605
818-982-9386 Phone *
Sales@Cast-Parts.com.





Aluminum Die Casting Tooling and Zinc Die Casting Tools are used in the die casting process in which molten metal, zinc or aluminum, is injected into a die casting tooling mold tools into the die casting machine. The diecast tooling is a a hardened H13 steel die to produce hundreds to thousands of metal die casting parts every day. Die casting tooling Molds produced by Cast Parts Company are usually good for more than 100,000 diecasting parts from each tool die cavity. Aluminum die casting parts or Zinc die casting parts are used in many manufacturing applications.
Die Casting Materials, Metals or Alloys used to make die casting parts with die casting tooling:
Material Alloys we use in our diecasting tooling:
A360 aluminum Alloy

A380 aluminum Alloy

A413 aluminum Alloy

Zamak #3 zinc Alloy

Our Die Casting Tooling Services and Die Casting Tooling Quality

Diecasting Tooling Inspections.

Mount diecasting cavity inserts into diecast moldbases.

Die casting tool ejector pin replacement

Die Casting Tooling First Article Inspections.

In-Process die casting part and Tooling Inspections.

Final Diecasting Tooling and Part Inspection.

Die casting tooling and Die Casting Molds are a very important part of the die casting parts production manufacturing process.

Diecast Parts still on Gate
Die Castings with Care
When an aluminum die casting part zinc die casting part is produced, it is inspected, then the excess material is trimmed from the edges with a trim die tool. Sometimes the parts are sanded ore a file is used to remove the excess flash for the die casting part. The use of the die casting tool called "Trim Die", used in our trim presses, reduces the die casting part process time and reduces the part cost. Die casting tooling comes in many names, such as: die casting molds, die casting dies, die casting inserts, die casting cavities, die casting mold bases, die casting trim dies and of course, die casting tool.


Die Casting Parts can then be machined with holes and threads, cast parts can be plated or powder coated. Die Cast Parts will have a final part inspection prior to shipment with a Part Certificate of Conformance.



Page Links: Cast Parts Die Casting Company